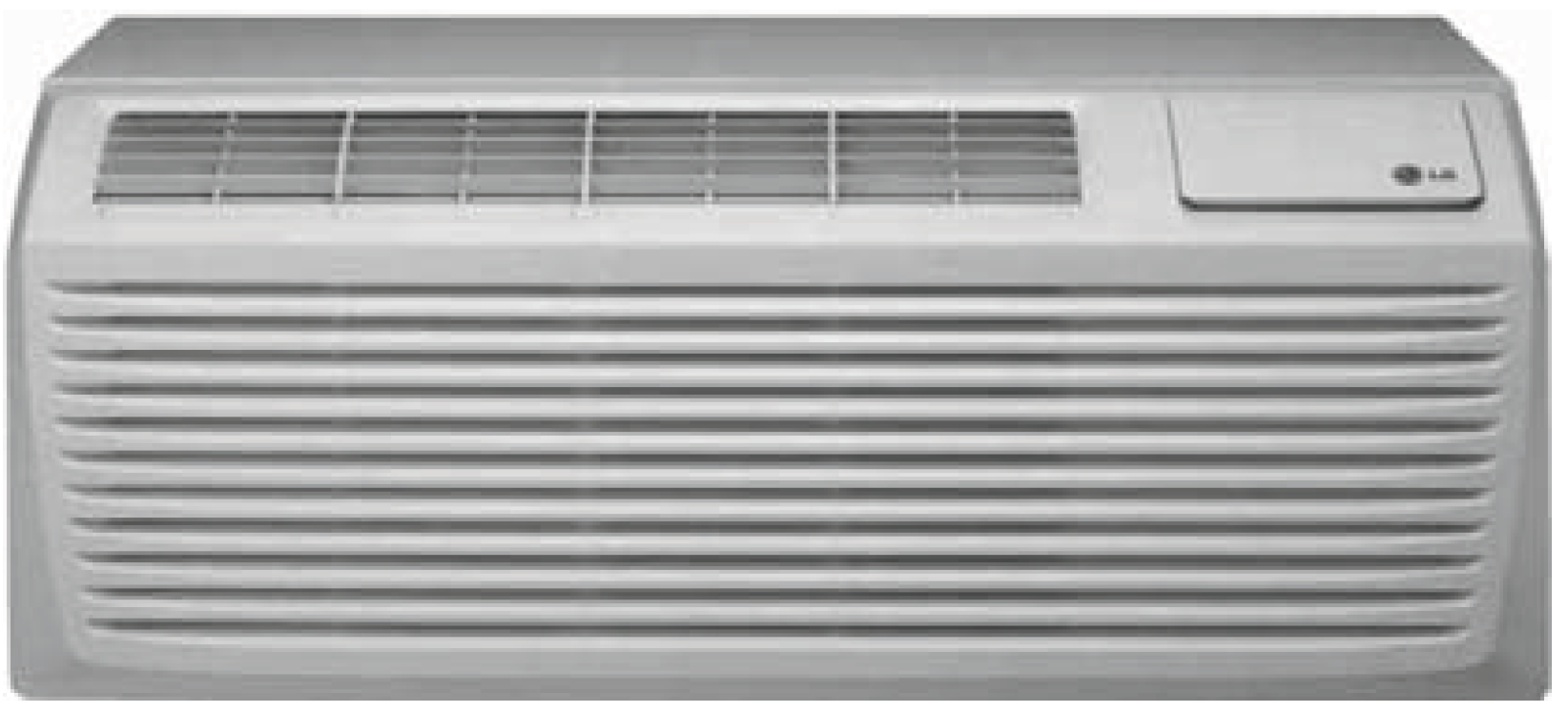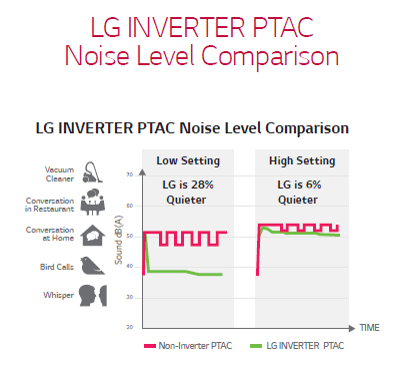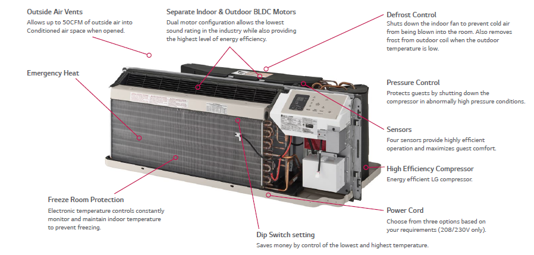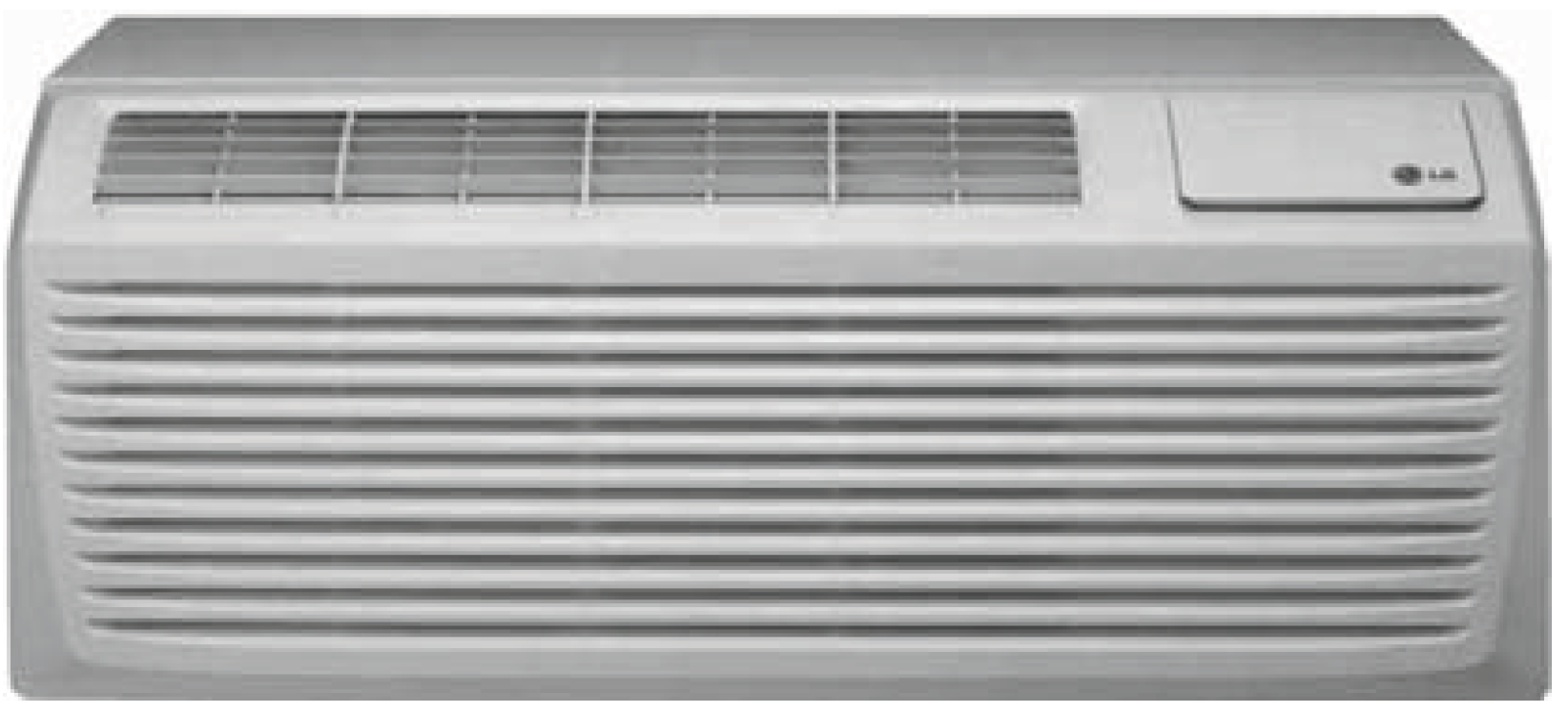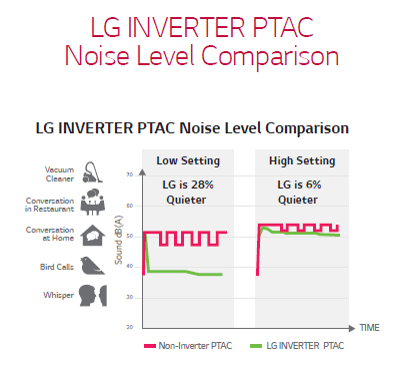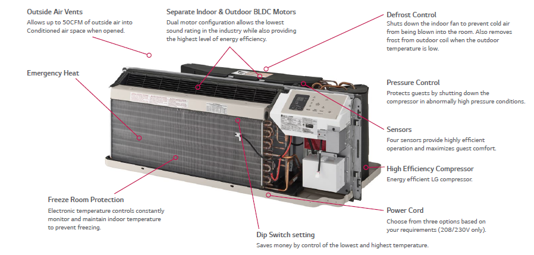 LG Inverter PTAC
LG has a tradition of bringing high-quality HVAC products with inverter compressors to the market for almost 20 years and the new Inverter PTAC is no exception. Owners and developers of hotels and motels, senior living or multi-resident buildings will see the benefit of reduced sound levels and lower energy costs as compared to traditional PTAC units. Operating at extremely low decibel levels and with EER ratings up to 13.4 EER, LG PTACs are the best way to ensure the highest guest satisfaction.
LG INVERTER PTAC
MODEL NO.: LP073IHP
BTU COOLING: 7600
BTU HEATING: 7000
MODEL NO.: LP093IHP
BTU COOLING: 10000
BTU HEATING: 8800
MODEL NO.: LP123IHP
BTU COOLING: 12000
BTU HEATING: 12000
MODEL NO.: LP153IHP
BTU COOLING: 14700
BTU HEATING: 13800
CONSULTEZ VOTRE REPRÉSENTANT POUR LES PRIX
Contact Us For Pricing
EXPLORER PRODUITS MULTI-V
AVANTAGES ET CARACTÉRISTIQUES
RESSOURCES
Provide your guests with a truly quiet, comfortable room, with LG PTACs.
♦ Energy Saver Mode
♦ Auto-Restart
♦ Front Desk Control
♦ Dip Switch
♦ Compatible with most Energy Management Systems
♦ Manufactured in LG Factories
♦ Warranty: 1 Year Labor, 5 Year Parts
♦ Solution for hotels and motels, senior living or multi-resident buildings
♦ Manages operating costs and occupant comfort.
♦ Connects directly to an LG controller and 3rd party thermostats
♦ Reduced sound levels
♦ Reduces energy costs
♦ Unit replacement or retrofit
♦ Stabilizes moisture levels
| DOWNLOAD | TYPE | CATEGORY | PRODUCT NAME | MODEL NO. |
| --- | --- | --- | --- | --- |
| | | PTAC | | N/A |
| | | PTAC | | N/A |
| | | PTAC | | N/A |
| | | PTAC | | N/A |
| | | PTAC | | N/A |
| | | PTAC | | N/A |